Three Days in Paris
Paris is a spectacular, sprawling city where you could spend weeks and still have plenty of neighbourhoods beckoning you back. On the other hand, even with only three days in Paris you can still see a lot of what makes the City of Love such a beloved destination.
This itinerary for three days in Paris focuses on revealing both the historic and modern Paris with a variety of different attractions and activities. 
Day One in Paris
The best way to spend your first day in Paris is to follow the beautiful River Seine, from the iconic Eiffel Tower to the Notre Dame, with a detour to wander down the world's most famous shopping street, the Champs Élysées.
Morning: Eiffel Tower and Champs de Mars
What better way to start your three days in Paris than with a visit to its most iconic landmark, the beautiful Eiffel Tower? Nothing says 'I've arrived in Paris!' like a journey to the top of the Tour d'Eiffel, and you'll also get a beautiful view out over the city, which is helpful for getting your bearings.
Of course, the downside to Paris' most popular attraction is that it is very, very busy. With only three days in Paris, the last thing you want to do is spend it in queues – so book the tickets ahead of time Check Eiffel Tower Prices and Times and arrive fifteen to thirty minutes before it opens.
Not only should you miss the worst of the lines, but the light is beautiful for your first views out over Paris.
After you've climbed the Eiffel Tower, head back down and make your way to the market laneway of Rue Cler. Here you will find a great selection of traditional patisseries. Choose your favourite sweet (or savoury) delight and head back to the small park in front of the tower, the Champs de Mars, to enjoy it in the shadows of France's most famous landmark.
Midday: Champs Elysees and Arc de Triomphe
After enjoying brunch, cross over the Seine towards the Trocadero and past the Palais de Chaillot. After stopping at the Trocadero for some more photos of the Eiffel Tower, continue north down Avenue Kuebler, with its many grand old buildings.
After about twenty minutes, you'll arrive at the beautiful Arc de Triomphe, with the Eternal Flame burning underneath. Commissioned by Napoleon in 1806, it is dedicated to France's military victories and honours those lost in these battles.
The Arc de Triomphe stands at the western end of the Champs Elysees, perhaps the world's most famous shopping strip. As you wander down the street, keep your eyes out for stylish Parisians and the stores of many luxurious brands such as Chanel, Dior and Louis Vuitton.
If you are feeling peckish, there are plenty of cafes to stop in and order an espresso and light meal. Towards the end of the Champs Elysees you will pass the beautiful Grand Palais, another stunning building that was built in 1897 and houses several museums and art exhibitions.
Afternoon: Place de la Concorde and Notre Dame
Continue past the Palais, and onto the Place de la Concorde, a large public square surrounded by beautiful buildings. It also has a dark side, however – this is where Marie Antoinette and Robespierre were guillotined during the French Revolution.
Across from the Place de la Concorde, hop aboard the underground metro from the Invalides stop, and get off at Notre Dame, just metres from the stunning Notre Dame Cathedral, which has stood gracefully on the banks of the Seine since approximately 1163.
If you arrive in time, there is a free English tour of the cathedral at 2:30pm on Mondays, Tuesdays and Saturdays; and 2.00pm on Wednesdays, Thursdays and Fridays. Nearby, you will also find the Shakespeare Book Company – one of the most historic bookstores in Europe. It's well worth a visit.
Dinner: Saint Germain de Pres
After all that walking and exploring, you've probably worked up an appetite! Luckily, the trendy neighbourhood of Saint Germain de Pres is just a fifteen-minute stroll away.
If you arrive too early for dinner, simply wander around the beautiful neighbourhood enjoying the bohemian atmosphere. There is a beautiful abbey as well as the famous café Les Deux Magots, a favourite haunt of writers such as Ernest Hemingway and painter Pablo Picasso.
There's no shortage of great restaurants in the area, including youthful Semilla, casual Clover or traditional Josephine Chez Dumonet. Once you've enjoyed a delectable Parisian dinner, you can either retire back to the hotel or make the most of your first night in Paris – there's a great selection of wine and cocktail bars in St Germain des Pres, including Arbane and Bar Etna.
Day Two
Today's itinerary will be a little more laidback, giving your feet a chance to rest a little after all the distance covered yesterday! Highlights will include a visit to see the masterpieces at the Louvre, followed by up and coming artists in trendy Montmartre. Finally, catch a risque show at the infamous Moulin Rouge.
Morning: Louvre
It's worth waking up early again to beat the line for another beloved Parisian attraction: The Louvre! As the largest (and most famous) art gallery in the world, you'll probably need a few hours to explore it, and the lines can be just as long as the Eiffel Tower. Beat the lines by getting tickets in advance online [https://www.louvre.fr/en/online-tickets], and arriving fifteen minutes before it opens at 9am.
Once you're in, you'll be treated to incredible works of art including – of course – the Mona Lisa! Here you can see for yourself what all the fuss is about, and perhaps try to work out the reason for Mona Lisa's wry smile.
If you're an art and museum enthusiast, you can also devote an hour or two to the nearby Musee d'Orsay.
Lunch: Rue des Martyrs
The walk between the Louvre and our next recommended stop, Montmartre, is quite long and it is an option to take the metro or an Uber. However, between the two lies Rue des Martyrs, a wonderful, typical Parisian street where rumour has it that the Patron Saint of France, Saint Denis, was executed in the third century.
Today, the street has an impressive selection of cute boutiques and authentic Parisian cafes. It's the perfect place to stop for a lunch and soak in tha je ne sais quoi of Paris. L'Home Tranquille is a family run bistro that serves delicious, simple Parisian dishes.
Afternoon: Montmartre and the Sacre Couer
Spend the afternoon exploring artsy Montmartre, one of Paris' most beautiful and most well-known neighbourhoods. Not only is this place popular with visitors to Paris, but it is also a hub for young artists who descend on the neighbourhood with their sketchbooks and easels. At the market at Place du Tertre young artists sell their paintings and also sketch portraits for visitors.
Also in the neighbourhood is the Sacre Couer, a beautiful basilica which is another of the most well-known attractions in Paris. It is a beautiful spot to watch the sunset.
Dinner: Moulin Rouge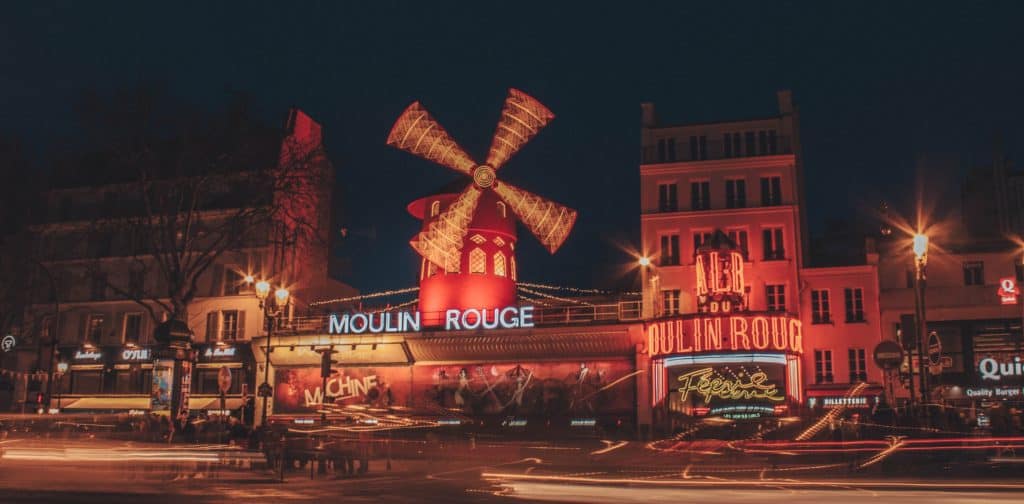 After spending a few hours appreciating the art in the Montmartre district, it's time to appreciate a different type of spectacle at the (in)famous Moulin Rouge. Located only about a kilometre from Montmartre, this venue is famous for its often risque dinner shows that feature the world's most talented burlesque dancers. It's bound to be a truly memorable experience, so grab your tickets online [https://www.moulinrouge.fr/reservations] and enjoy the show!
If you're not quite ready for bed after seeing the spectacle of Moulin Rouge, drop by one of the many great cocktail and wine bars in the area. We love the eye-brow raisingly named Dirty Dick, or hidden gem Orphée Privé.
Day Three
The third and final day in Paris features a daytrip to the regal Palace of Versailles, as well as a leisurely afternoon visiting pop culture royalty at the Pére Lachaise Cemetery or exploring the beautiful Le Marais neighbourhood.
Morning: Palace of Versailles
There's no need to wake up quite as early today, especially after last night's cocktails. Rise at leisure and find a café for a morning coffee and croissant – there's no recommendation here as half of the fun is meandering the streets to find a hidden gem.
After breakfast, it's time to head 23km out of Paris to Versailles, known as the City of the Royals. One of Paris' most popular daytrips, it is only a half an hour on the metro from Gare Montparnasse. The Palace, which was once home to historical figures such as Marie Antoinette, is absolutely beautiful with captivating rooms such as the 'Hall of Mirrors'. We recommend booking your tickets online ahead of time [http://en.chateauversailles.fr/plan-your-visit/tickets-and-prices] – you guessed it, to beat the queues!
After a couple of hours exploring the Palace and its expansive gardens, get back on the metro to Paris for your last afternoon in the City of Love.
Lunch/Afternoon: Pére Lachaise Cemetery AND/OR Le Marais
There are two options for your final afternoon in Paris, since visiting a cemetery isn't everyone's cup of tea!
The first option is to explore Pére Lachaise Cemetery, possibly the most famous and historic resting place on earth. Amongst the graves is the final resting place of icons including singer Edith Piaf, writer Oscar Wilde, composer Frederic Chopin and The Doors frontman Jim Morrison. A guided tour of the cemetery is an interesting way to find out about French history and its many colourful figures.
If you'd prefer – or if you finish at the cemetery early enough – another great option is to spend the afternoon exploring the charming neighbourhood of Le Marais. One of the few neighbourhoods that wasn't built over in the 19th Century, it is one of Paris' oldest and most beautiful districts, with charming architecture and many lovely cafes and shops. It's easy to spend several hours in Le Marais soaking in the gorgeous French atmosphere.
Dinner: Dinner with a View
It's time to finish Paris how it started, and say goodbye to the beautiful Eiffel Tower. The Tower is especially beautiful at night, so book in for a beautiful dinner with a view at a restaurant such as Le Jules Verne or George's and soak in the views (with a glass of French champagne in hand, of course!) as you say goodbye to Paris.
Although three days in Paris may not seem long, it's plenty of time to explore this beautiful city.